September 13-16, 2018, From the Artist's Collection; Le Carrefour Européen du Patchwork, Sainte-Croix-aux-Mines, France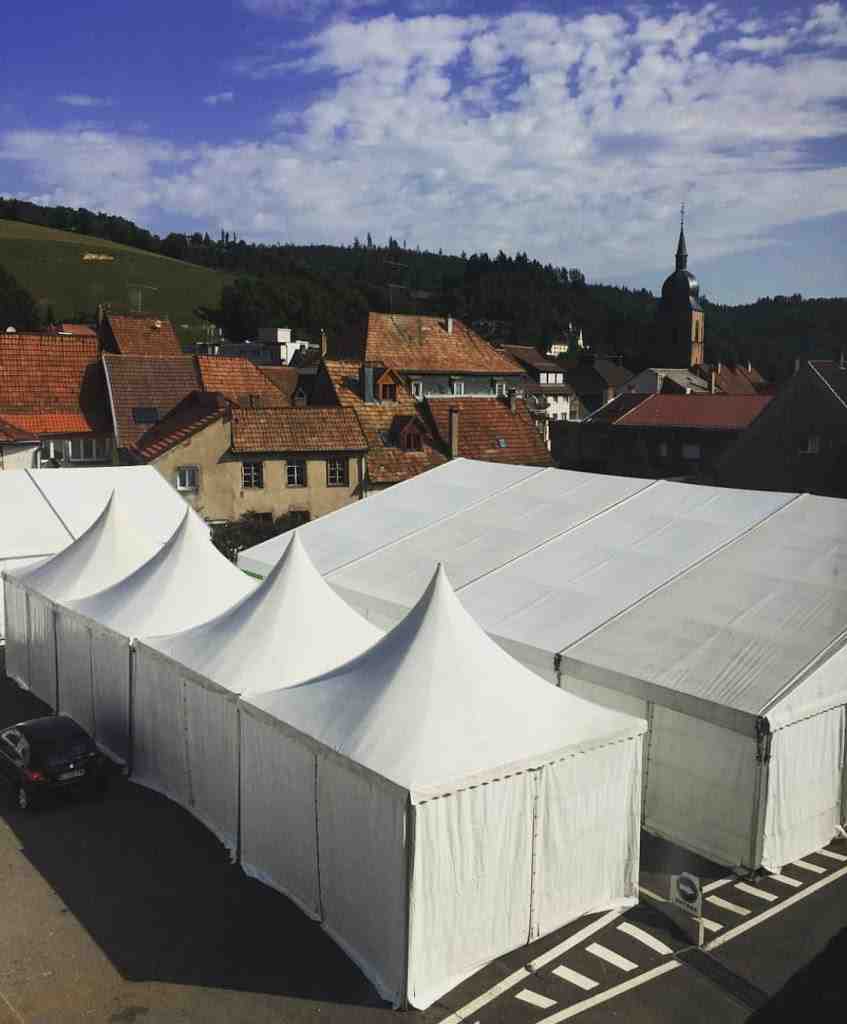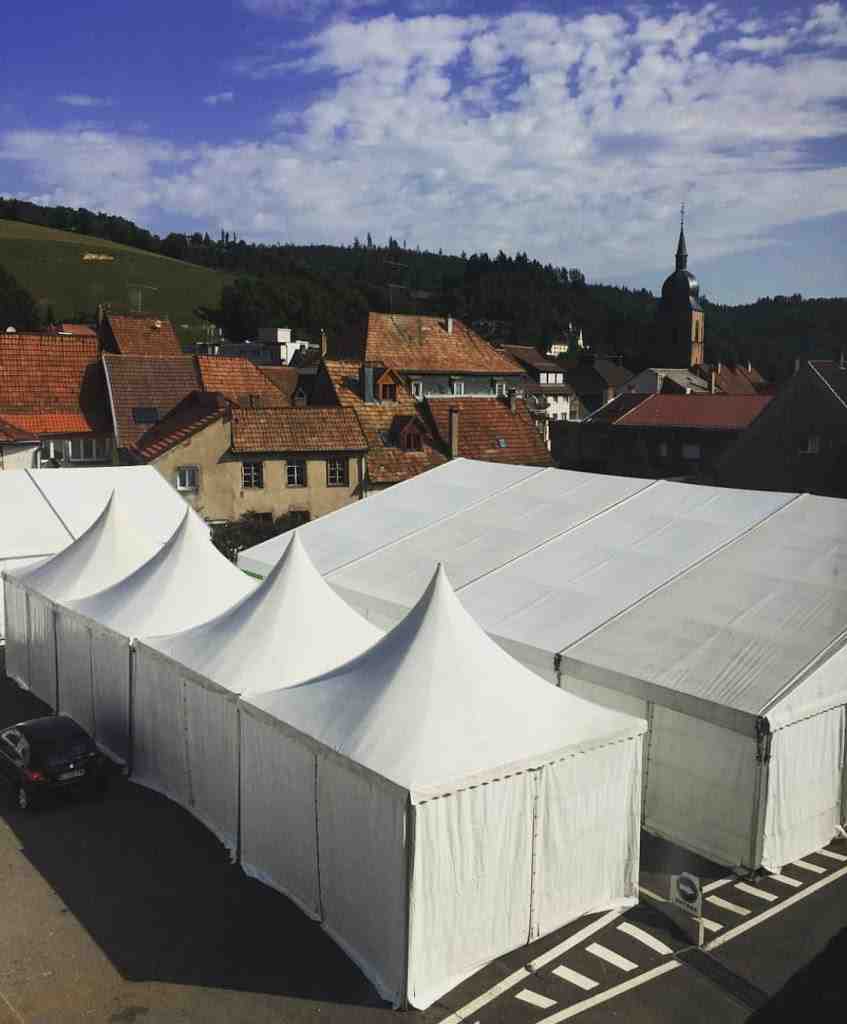 photo credit: Le Carrefour Européen du Patchwork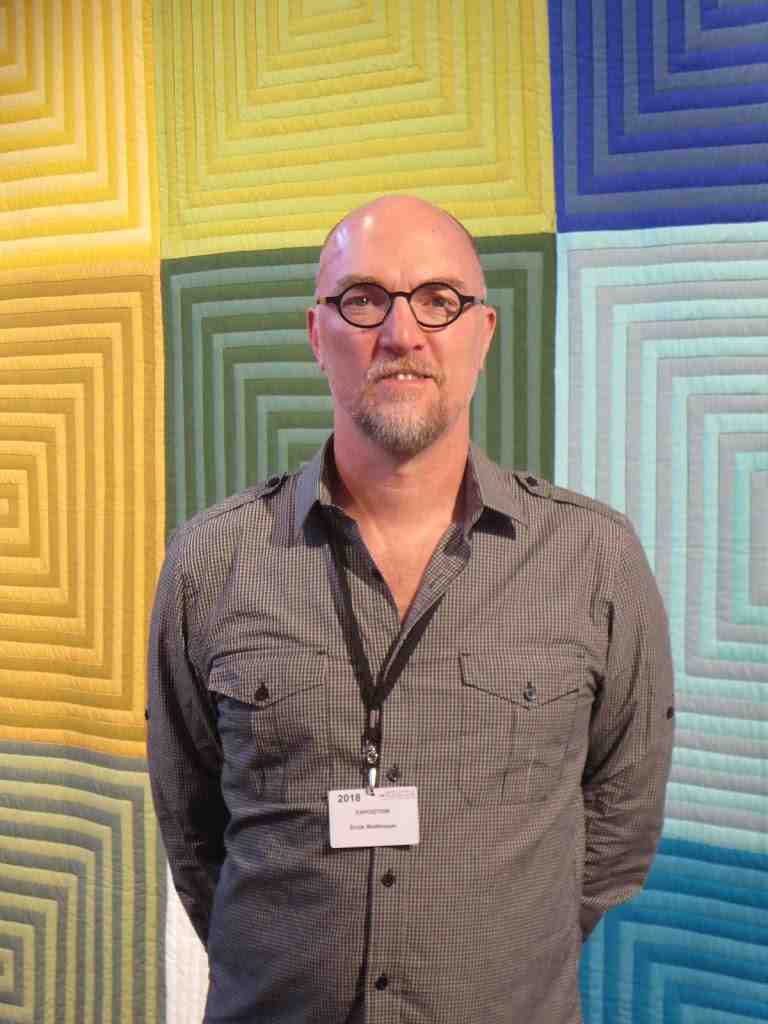 photo credit:

Dorothee Schwolgin
I am excited to have been invited to have a solo show at the 24th Annual Le Carrefour Européen du Patchwork in Sainte-Marie-aux-Mines, France.  I will be exhibiting nine quilts and presenting my video A Piece of Me on Saturday, September 15 at 2pm.  It is a great honor and I am looking forward to what will be my first solo show in Europe.  Le Carrefour Européen du Patchwork takes place throughout five quaint villages in eastern France very near the German border.
As an adopted child, my inner life was full of fantasy and musing about my origins.
 I loved the movie Willie Wonka and the Chocolate Factory, especially the scene where Charlie blasts through a glass skylight in flight over terracotta rooftops of a German village.  The scene stirred my imagination, interest in my own German heritage, and my desire to someday see those very red rooftops myself.  In the subsequent 40 years I never made it to Europe, until now.  I can't help but believe that my solo exhibit at 
Le Carrefour Européen du Patchwork
 is my own fantastic flight, 
a homecoming, and 
a childhood dream realized.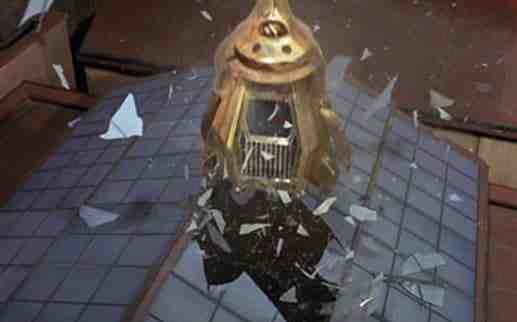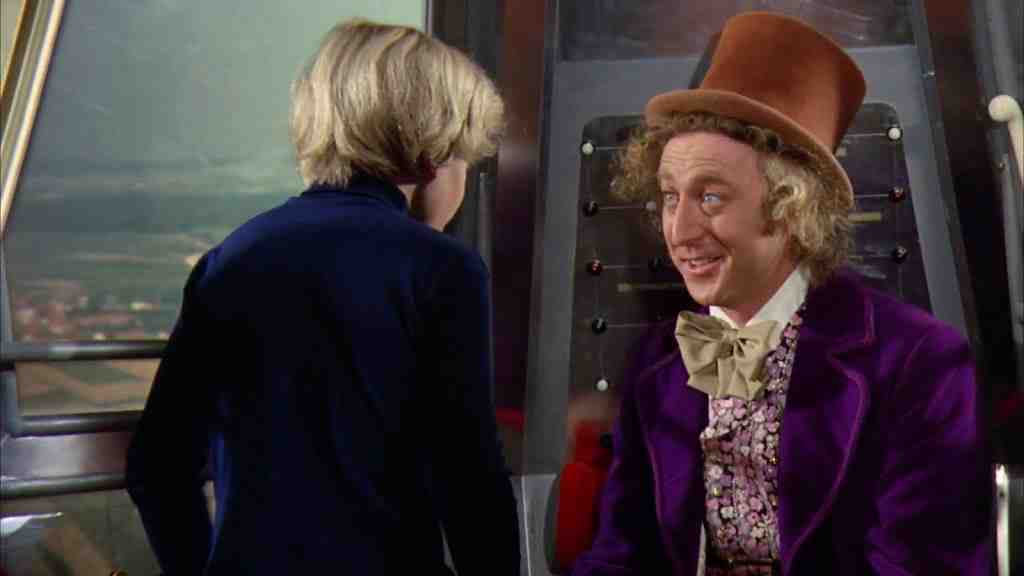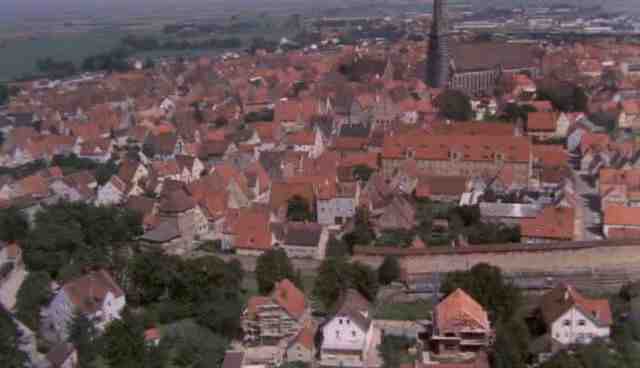 DAY ONE
September 8, 2018
Amtrak Mt Pleasant, Iowa to Chicago > scam taxi ride > hotel strike at the Palmer House > relocated to another hotel > dinner at Italian Villages restaurant

DAY TWO
September 9, 2018
Breakfast at Tiera Piano (at the Chicago Art Institute) with my beloved first art professor, Darlene Fahrenkrog (Concordia College, River Forest, Illinois 1985-86) and her husband > Blue Line el(evated) train to O'Hare airport > sleepless overnight flight to Frankfurt, Germany

DAY THREE
September 10, 2018
Arrived in Frankfurt, Germany > 3+-hour ride to La Vancelle, France with our driver, Ramone > greeted at Hotel Elisabeth with a handwritten note taped to the open door of the hotel > walked through the village to the town church that's dedicated to the infant victims of WWI and WWII from La Vancelle > ended the very long day with one (of many) of the best meals of my life at the hotel's restaurant, where the staff treated us like family

DAY FOUR
September 11, 2018
Met Lysianne Held, Exhibit Manager I've worked with only by email for a year > drove in villages clearly platted before cars were invented (wonderful!) > hung my show in 8 hours with the help of my partner > came "home" to the hotel dog > had picnic dinner in park just up the hill from the village chapel at 9:00PM with food purchased from what became our favorite grocery store, the Super U, in Sainte-Marie-aux-Mines
DAY FIVE
September 12, 2018
Left early and stopped at a boulangerie in Ste-Marie-aux-Mines for the most amazing plum tart en route to Reims (about 4 hours by car, during which we passed through the fields of Verdun and saw many WWI memorials along the roadside) > visited the truly awe-inspiring Reims Cathedral > ate lunch at an outdoor cafe with cathedral facade only yards away > safely back home to the bucolic view out of the hotel window > ended the day with another picnic dinner from the Super U

DAY SIX
September 13, 2018
Opening day for of Le Carrefour Européen du Patchwork, my exhibition was hosted in the beautiful town of Sainte-Croix-aux-Mines >only exhibit I've ever had with a beer/wine/pretzel tent and other wonderful food vendors > was blown away by the attendance (20,000 people) met folks from France, USA, Netherlands, United Kingdom, Kenya, Italy, Austria, Germany, Hungary, Luxembourg, Finland, and Russia > an enthusiastic, sophisticated, and appreciative audience all-around
DAY SEVEN
September 14, 2018
A misty morning in Val d'Argent (Silver Valley) > more throngs of people at the exhibit > took the autobahn, and got to practice my European parking skills on a day trip to Baden Baden, Germany to relax in the waters of the Friedrichsbad Roman/Irish baths > came back to hotel for a delightful dinner (had my first escargot!) with my longtime friend and "Auntie Mame" (Jacquie Rickman) and her friend Suzi who came to see the show from Chicago
DAY EIGHT
September 15, 2018
Gave my presentation, "A Piece of Me," to a small but mighty gathering > reunited with a dear friend from Germany, Dorothee Schwolgin, who I hadn't seen since 1983, when she was an exchange student at my high school (Quincy, Illinois) > made new friends from Australia (Linda Collins) and Belgium (Martine Poehlman) > ended the day with another wondeful dinner in Colmar, France with Doro, her friend Barbara, Jacquie, and Suzi 

DAY NINE
September 16, 2018
Last day of the exhibit > took some time to wander around Ste-Croix-aux-Mines, meet a few other artists, and see their work > featured in a regional newspaper article > was bid a fond "au revoir" by the lovely volunteer pages who staffed the exhibit hall, all in tourism studies > until next time, beautiful Alsace…
photo credit: Dorothee Schwolgin