Quilt- & Textilkunst Patchwork Professional (German), March 2017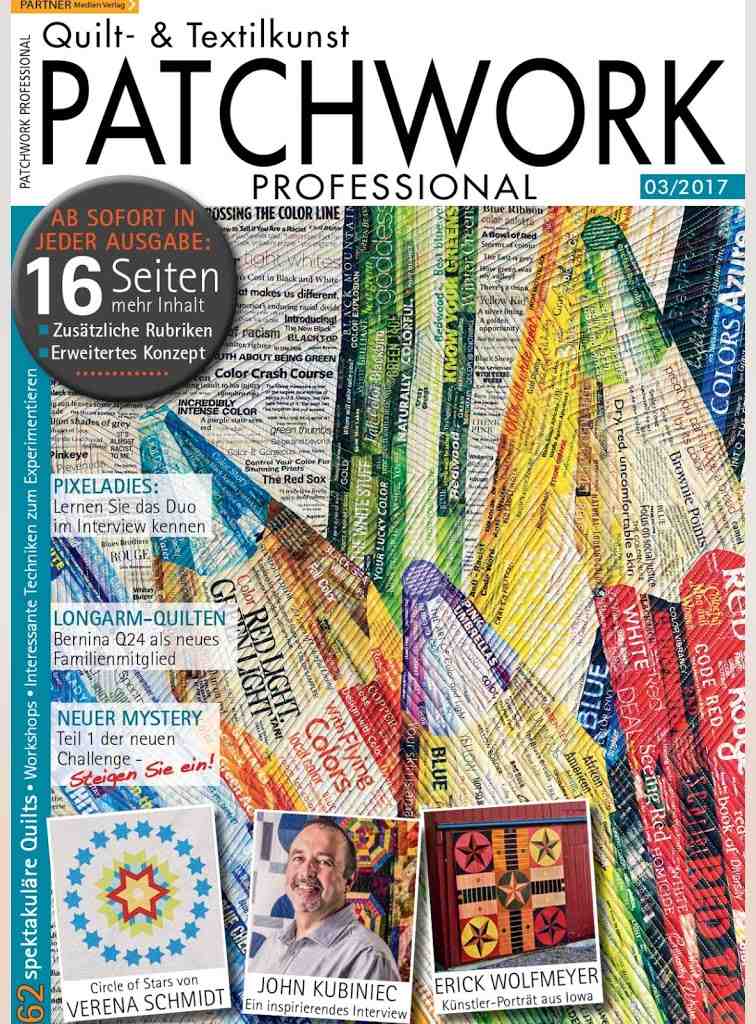 Here is the original transcript of the interview questions I answered:
Information About Me…
I am a 49 year old, single man living and working in Iowa City, Iowa USA. My full-time day job is as a dispatcher and field trip coordinator for the local school district's bus service. I started as a part-time school bus driver in 2007, but have worked as full-time office staff since 2010. It can be a very demanding and intense job while I am there, but one I can leave at the door and it affords me generous time off and a modest living. I have a dog, named Laffy Taffy, who I brought home with me from the local animal shelter nearly five years ago. She is a great companion and makes her home in my studio, which is what would otherwise be a living room for most, in my small 565 square-foot home. Built in 1900 as railroad lineman's cottage, it is only a few hundred feet from the railroad tracks that form the south end of my property line. My Bachelor of Fine Arts (BFA) degree in Photography from Washington University (1990) no doubt has significant influence over my approach to quilting, particularly to my understanding and use of color. My creative drive is both a contemporary necessity and the direct result of my lineage – as I continue to unwind the obfuscation of my biological heritage that resulted from my childhood adoption.
When and Why I Started…
I made my first quilt in 1998 while living in northern California and vacationing with friends in Sisters, Oregon. They'd just had their first child and I wanted to make him a quilt (he's now a freshman in college!). I bought my first pattern at the local quilt shop, which at the time I didn't realize is well known for its annual outdoor quilt festival. My then-boyfriend back in California showed me the basics of sewing and I was on my way. I hand-quilted it myself along with most of my early work, but quickly realized I could not continue to both make tops and hand quilt them myself. Over the years, I was fortunate to find and develop critically important relationships with two different hand-quilting brokers who take my quilt tops, batting and backing and then distribute them to hand quilters. Initially my work was quilted by traditional quilting bees – groups of women who met in church basements in northern Iowa and quilted together to raise money for benevolent purposes. Now, my quilts are all sent to a Mennonite broker in northern Indiana. Once received, she calls me to discuss quilting specifics, then she sends them on to be single-needle hand-quilted by one of her cadre of rural Amish women who ask to remain anonymous according to their own cultural traditions and strictures. I am dedicated to the tradition of hand-quilting. If I were unable to get my work hand-quilted by others, I would either hand-quilt it myself, change my approach altogether, or maybe just quit. All this to politely say I am not a fan of machine quilting. It has its place, and I too have lightly and simply machine quilted small pieces I knew would be used and washed repeatedly. However, so much of the machine quilting I see is what the head curator of one of America's major quilt museums once quipped to me, "tortured fabric." Machine quilting can completely alter the very nature of all the wonderful qualities of fabric – the way it breathes, drapes, hangs – it's gentle supple fluidity. I know this is not a popular thing to say, but I'm not interested in being some kind of quilt celebrity, touting this or that product or riding on the novelty of my gender – I am interested in quilts purely as an art form. I started quilting mostly as a curiosity, but continued quilting as a poultice for a very poor decision to return to graduate school and live with my parents in my early 30's to save money. It was a disaster and quilting gave me my only shred of sanity. I eventually moved to Iowa in 2001 (where my hand quilters were at the time) got a full-time job in retail, and continued making quilts. I sold my first quilts that same year, much to my astonishment, and have been making (and selling) them ever since. I do not, nor do I aim to make a living from my quilts. It is purely an avocational endeavor. It is, for me, a kind of spiritual practice. I find the act of sewing – the repetitive nature of it – soothing. If art were my religion, color and geometry would be my theology and sewing my prayer and meditation. I have, however, been very fortunate to sell the majority of my work, which has provided the means to continue making more quilts. I am always humbled, shocked and amazed when I sell a piece, and assume it will be the last piece I ever sell. For about ten years I sold at a nearby annual quilt show in the small town of Kalona, Iowa (known for its large Amish population) as well as at a local retail shop that specialized in selling antique as well as new quilts. Now, I sell directly to collectors upon their expressed interest in my work. I have all my quilts professionally appraised by an American Quilt Society (AQS)-certified quilt appraiser in St. Louis, Missouri. She has become a close friend and represents a significant turn in my quilt career by having helped me understand the value of my work. I am most intimately and deeply engaged with the process of making the quilts and am not especially attached to them once completed. In fact, they are somewhat of a burden to store in my small home. I store them rolled up on batting-wrapped PVC pipe and then covered with muslin drawstring bags made by a friend's daughter. I am always elated to sell them and see them go to the right home. My quilts have a whole life of their own, once created. Some hang in friend's homes, some have travelled museums all over the US and China, others hang as part of public (library, museum) and private collections. It's very humbly gratifying to know my work is so meaningful and of interest to others.
What I am Up to at the Moment…
At the time of this interview, I currently have quilts in two exhibits in Iowa. Three of my quilts, including the debut of my 2016 self portrait quilt, Face of A Stranger, are featured in a group show with two women quilt artists at the Blanden Art Museum in Ft. Dodge, Iowa. The second exhibit features my quilt Portmanteau from Linzee Kull McCray's book turned exhibit, Art Quilts of the Midwest, currently at the new Iowa Quilt Museum in Winterset, Iowa. Portmanteau also toured six museums in China throughout 2012 with a US Embassy-sponsored exhibit, The Sum of Many Parts: 25 Quiltmakers in 21-st Century America. I was fortunate enough to be one of two quilters invited to go to Shanghai for the opening and ten days of educational outreach. I will also be one of eight international artists featured in The Making of An Artist: Character, Culture and Circumstance, by Kristin Congdon, slated to be released Spring 2017. My only regret about that book is that it will contain some inadvertent misinformation about my story, as I only recently began to learn the truth of my paternity, via DNA testing. Perhaps I will get another opportunity to someday fully tell my story with the truth as I know it at that time. I have learned that all of our lives are so much more fiction than we realize, and what I want more than stories, is the truth. Quilt-making is my truth. My work contains my authentic life over the span of months or in some cases, years it takes to complete a quilt. After finishing my 6 x 8 foot self portrait quilt Face of A Stranger (2016), I moved on to creating large-scale, colossal quilts (~8 x 24 feet). The fist one, Cross Quarter Embrace, is currently being hand-quilted. I plan to debut it at my first solo show late Summer 2017 at the Pearson Lakes Art Center in Okoboji, Iowa. The piece will have taken almost three years from conception to completion and explores the desires and tensions around forming human bonds. The quilt, as has been the case with other pieces of mine, proved to be somewhat prophetic as during its creation, my birthmother reappeared in my life unexpectedly after a 23-year absence, I spent some time with her last summer at her home in southern California, and before the quilt's completion she was once again estranged. The quilt becomes a sarcophagus of sorts for early childhood loss and ongoing emotional trauma, for those that pass in and out of our lives, as well as uncertainty, hope and optimism for the future. I am one 33″ square away from completion of my second colossal-scale quilt, Dreamer. It is made of 33″ tone-on-tone one-inch strip concentric squares. There are 27 squares altogether, made mostly of fabric from my modest-by-most-standards fabric collection, arranged three high and nine wide. The title, Dreamer, is a reference to dreaming of a warm, colorful desert in the midst of the bleak Midwestern winter, but also contains reference to America's struggle with immigration policy. I have a proposed commission to address after this piece is completed, and no shortage of other large-scale works I'd like to see to completion. Most all of my ideas come from the question: "what if?." Sometimes I have an oblique vision of a quilt while doing some mundane household task. Often the why's of any particular piece are too personal to share and mostly it's simply for the satisfaction of seeing an idea come to its fruition, and all the concomitant joys therein. All of my work is in some way my ongoing attempt to answer three of life's most basic questions: Where did I come from? Who am I? and Where am I Going?
My Plans for the Future…
In this political climate, who can say? Now, more than ever, it seems imperative to continue to create and bring truth, joy and light into the world. And, it has also become all the more difficult. Because I fund all of my work from my own modest income, finances can be a barrier for thinking too far into the future and too boldly. The colossal quilts are, not surprisingly, quite expensive to create, but my hope is they might be the entree into more art museums where the work can be viewed critically shoulder-to-shoulder with other fine art. I am not in competition with anyone other than my own goals and ambitions, and I try to keep them in check with a large, regular dose of humility. I have at least two (or more) colossal quilts I'd like to complete, all part of my concentric square theme/obsession. Each piece always leads to ideas for the next, or often several more. There's so much time to think, dream and process while making a quilt – I have more than one lifetime of ideas. It's the pull to start on the next piece that often gets me through some of the tedium of making the current one. If I am fortunate enough to continue working into old age, as I would hope to do – no matter what the specifics – I would like to continually challenge the boundaries of the medium and expand the exhibition of my work. Perhaps it is all hubris and folly – I will likely never be satisfied by any such end results since the truest satisfaction comes from simply making the quilt.